Eurus Technical Service Corporation and TEPCO Ventures, Inc. conducting largest drone inspection campaign of wind power generation facilities in Japan
May 21,2021
Eurus Technical Service Corporation
TEPCO Ventures, Inc.
Eurus Technical Service Corporation (Headquarters: Minato-ku, Tokyo; President and CEO: Kunio Umezaki; hereafter "Eurus Technical Service") and TEPCO Ventures, Inc. (Headquarters: Chiyoda-ku, Tokyo; Representative Director: Shinji Akatsuka; hereafter "TEPCO Ventures") are currently conducting drone inspections for 170 wind power turbines, which represents the largest such project in Japan thus far.
Eurus Technical Service, as a group company of global renewable energy developer, owner, and operator Eurus Energy Holdings Corporation, is responsible for leveraging its operational expertise based on its experience to ensure the stable operation of wind and solar power plants throughout Japan. The company is currently advancing numerous initiatives, such as the introduction of a centralized monitoring system and the study of the latest inspection solutions including drones, to improve its maintenance and management of its wind power generation facilities, as Eurus Group expects to expand into larger scale facilities and offshore markets.
TEPCO Ventures collaborates through an exclusive alliance with SkySpecs, Inc.※(hereafter "SkySpecs"), a world leading company in wind farm maintenance and management solutions.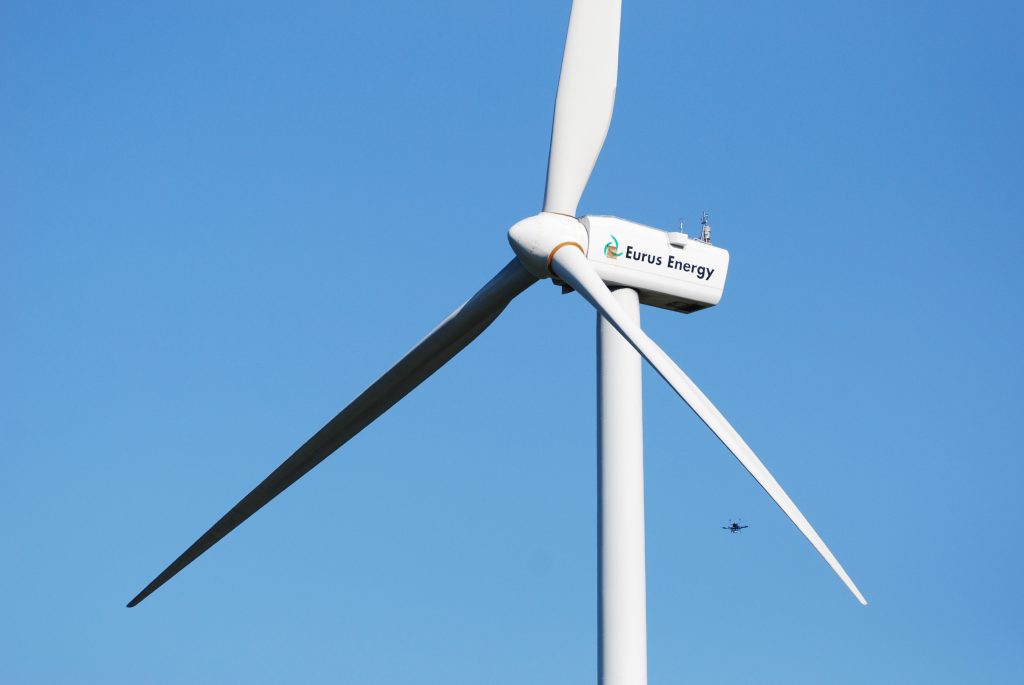 Eurus Technical Service had issues conducting inspections of its wind turbine blades, due to problems it has historically experienced with manual inspection, such as inconsistency of inspection accuracy, relatively long inspection times, and safety issues due to work at heights.
As a result of comparing blade inspection services by multiple companies from 2019, Eurus Technical Service decided to adopt SkySpecs to address these issues. In 2021, 13 domestic wind farms of Eurus Energy, 170 turbines in total, will be inspected.
The advantages of SkySpecs' drone inspection service are as follows.
1.Fully automated flight control system enables collection of images with stable accuracy.
2.Wind turbine images can be acquired in 15 minutes per unit, enabling inspection in a short period of time.
3.Cost-effectiveness resulting from reduced wind turbine downtime due to the short inspection duration per unit.
4.Excellent damage detection capability, based on SkySpecs' AI and past inspection data for more than 60,000 wind turbines.
The lifetime of onshore wind turbines in Japan commonly considered to be approximately 20 years. As turbines gradually deteriorate, the early detection of blade damage becomes more important for the stable production of renewable energy. Eurus Technical Services and TEPCO Ventures will continue to contribute to the stable expansion of renewable energy through the digitization of operation and maintenance.
※SkySpecs, Inc.
Established in March 2012 in Michigan, USA, SkySpecs leverages its expertise in robotics, predictive analysis software, and wind power to operate wind power maintenance automation operations. It has offices in Michigan, USA and Amsterdam, the Netherlands. TEPCO Ventures is the first partner with whom SkySpecs had concluded an alliance in Japan. https://skyspecs.com/
【Eurus Technical Service Corporation】
Eurus Technical Service Corporation was established in September 1998 as a wholly owned subsidiary of Eurus Energy Holdings Corporation, which boasts the top share of wind power generation within in Japan of any company. As the operation and maintenance management company for Eurus Energy Group's global wind and solar development business, Eurus Technical Service Corporation plays a key role in supporting safe and secure development of clean energy businesses developed together with regional stakeholders throughout Japan.
https://www.eurus-technical-service.com/ (Only Japanese site)
【TEPCO Ventures, Inc.】
Established in May 2018, TEPCO Ventures is a wholly owned subsidiary of Tokyo Electric Power Company Holding Inc., Japan's largest electric utility. The company creates various businesses as an extension of TEPCO's core utility business and focuses on solving social issues in the energy and related fields. For more information on TEPCO Ventures, please visit https://www.tepcoventures.co.jp/en/ .