Adon group and TEPCO Ventures exhibited at the Solar Power International, North America's premier business-to-business events for solar energy and storage, held in Anaheim
Sep 28,2018

Solar Power international is a four day event being held from 24th to 27th Sep 2018 in Anaheim, USA as recognized by a North America's premier business-to-business events for professionals in the solar energy, storage and related fields. Adon group and TEPCO Ventures participated in this event and launched the new technology of "SunChiller", solar hybrid single-zone and multi-zone air conditioners, and "PowerBox", EMS for DC microgrid equipped with DC/DC converter and MPPT (Maximum Power Point Tracking) function, for creating DC smart energy microgrid marketplace.  TEPCO Ventures is creating advanced, environmentally friendly technologies to accelerate the energy industry's transformation and evolution."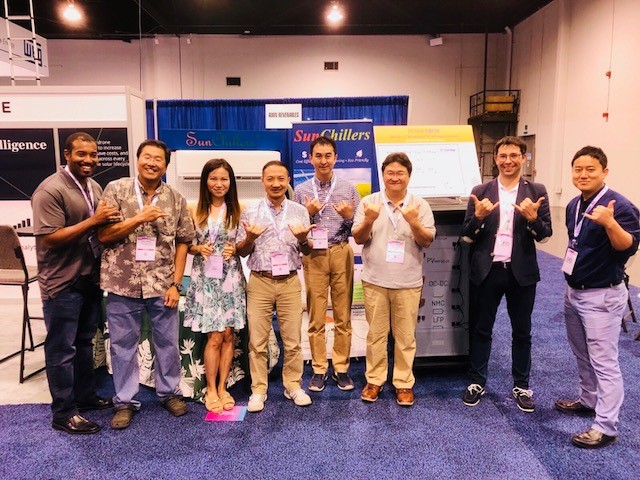 About Adon Group
Adon Construction Inc, Adon Renewables Corporation, and Green Vision LLC ("Adon group") are a developer of renewable energy products. Adon group, headquartered in Kaneohe, Hawaii, received Investment from TEPCO Ventures. Adon group designs and integrates large scale commercial and industrial advanced solar systems equipped with battery storage. Additionally, Adon group is the exclusive distributor of the SunChillers solar hybrid single-zone and multi-zone air conditioners, providing solar air conditioning with utility backup for hotels, commercial warehouses and offices, and multifamily dwellings.
For more information, visit www.adonsolar.com.
About TEPCO Ventures
TEPCO Ventures is a Tokyo-based wholly owned subsidiary of Tokyo Electric Power Company Holdings, Inc., Japan's largest electrical utility. The company is exploring next-generation businesses that fuse platforms for energy and other industries. To operate such businesses, TEPCO Ventures is engaged in forming wholly owned subsidiaries under the TEPCO group and joint-venture companies with partners both in Japan and overseas.